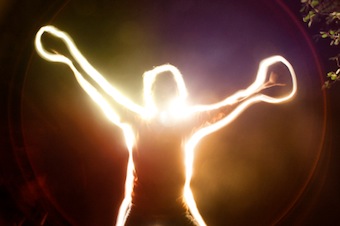 One of the most interesting fields of study is that of the phenomena of near death experiences, or NDEs. Often strikingly similar to one another, the accounts of people who have had an NDE have several key characteristics. First, as the name implies, people usually have NDEs when they are clinically dead, or on the verge of it, but finally resuscitated. As a result, the recorded incidents of this happening often occur in a hospital or a similar setting. Another key characteristic of NDEs is that there is usually a light, usually white, which seems to beckon the person towards it. This theme is found throughout religious and cultural history. Also common to NDEs is an experience of the events of one's life passing in your mind's eye, or before you, in an instant, and an understanding of all of the triumphs and tragedies, and some kind of understanding, sometimes akin to a feeling of forgiveness, or wholeness, afterwards.
NDEs have a lot to teach us about our minds, as well as what the experience of death may hold for us. Such an overwhelming amount of people from all walks of life have had these very similar NDEs, and this alone is a reason to think that they have something to show us that is species-wide, and perhaps holds the key to understanding the way we should approach the concept of death.
NDEs involve astral projection, and it would follow that if one had practiced the ability to navigate the astral realm, then one would be able to more easily navigate the death experience. The analogs between NDEs and the basic ideas of astral projection are many, chief among them being that very often the patient who has an NDE can see their position in the hospital, in the bed, with the doctors or their family members all around. Patients who have NDEs often remember details of the situation as they saw it from out of their body, and can often provide information proving that they were somehow aware of what was going on in the room.
There are also clarifying elements of an NDE, such as when a person who has had full or partial amnesia or dementia, and in their dying moments becomes lucid and interacts with family members, perhaps for the first time in years, before passing away. The experience also gives many the sense of having seen another side to existence, illuminating the sacred time remaining after this sublimating event.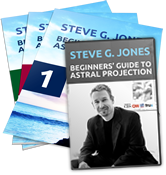 Experience astral projection risk free
Sign up for Steve G. Jones' Free Astral Projection Introductory Lessons
Encountering What is Within
Both the Egyptian Book of the Dead and the Tibetan Book of Living and Dying describe the different stages that the soul passes through during the death process. These studies, however much literal value one gives them, are examples of a people trying to understand the death process and how we might be able to die in a way that allows our soul to move onto the realms it needs to, without hindrance.
One way to think about it is to try to be more conscious of your mind as you fall asleep, as you make that transition from waking, to the liminal or in-between state, to sleeping. Extending this awareness is a good exercise, and is aided by a simple technique such as counting your breaths in sets of four while descending through sleep. This can splice one form of consciousness from another, and the in-between states become much more apparent in the process.
This is all part of trying on and navigating this astral body, and exploring the inner and outer realities that can be accessed by it. The methods and techniques for astral projection and lucid dreaming are in many articles here and I encourage you to explore them. In doing so, we explore this part of us that we are so easily distracted from today, in our neon mazes and glowing screens, and turn our attention to what is within.
Related Posts: