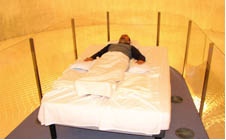 Power Systems Engineer Nelson Abreu has been conducting astral projection research with the International Academy of Consciousness (IAC). He's also worked with the Princeton Engineering Anomalies Research (PEAR) Laboratory, and has contributed astral projection research information to the International Consciousness Research Laboratories' (ICRL) latest anthology.
Nelson says he's a living example that astral projection and out of body experiences are more than delusions or hallucinations, because he taught himself how to do it after studying and conduction his own astral projection research.
As a volunteer with the IAC, Nelson conducts astral projection research with a particular focus on OBEs. As part of the team there, he has the opportunity to examine factors that facilitate projections with use of what they call a Projectarium. The Projectarium takes astral projection research to a whole new level because it was built to facilitate OBE inductions. The device (more like a room) is located in Portugal, at IAC's Research Campus. The domed space has a bed in the center, and according to Nelson, people who've never had an out of body experience are able to experience one here. The IAC's website explains: "[the person] lies on a suspended platform (surrounded by a safety net) with their head in the center of the spherical building, giving them the sense of being in a void. They then apply techniques with the aim of inducing a lucid out-of-body experience."
This astral projection research has offered some promising, initial results. According to their website, "On the weekend of the Projectarium's launch, one individual had three lucid exits from the physical body during a 90-minute session, and another had a continuous consciousness experience, an OBE where they transitioned directly from the waking state to being unmistakeably projected with zero loss of awareness."
This kind of astral projection research is exciting news for those of us whose lives have been positively impacted by astral projection and multi-dimensional consciousness.
What do you think about the Projectarium? Would you use it if you had the chance? Leave a comment and let us know.
Related Posts: